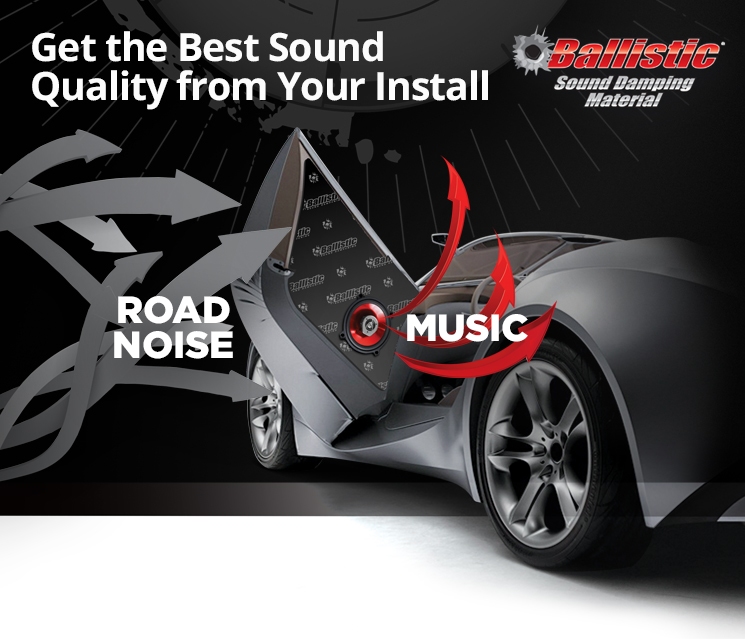 Sound Damping
Prevent Road Noise and Vibration!
Ballistic Sound Damping Restores Your Vehicle's Audio Performance
Road noise and vibrations cause automotive speakers to distort and alter the sound. Once Ballistic is applied, speakers are installed on a solid reinforced mounting surface and the unwanted road noise and vibrations are converted into thermal energy. The result? Better sound performance now that your speakers are able to perform as they were originally designed. Experience more music and less road noise!
30% Thicker!
Ballistic's competition-grade series has more mass per square foot and is up to 30% thicker than competing products on the market. More mass means more sound absorption and a more effective product for eliminating road noise and vibrations.
No Smell!
Most sound damping materials smell like a road paving project! Ballistic is specifically designed to eliminate this odor problem without sacrificing effectiveness. Don't just take our word for it, pick up the other guy's stuff and take a big whiff.
Easy Adhesive
Ballistic's revolutionary adhesive, Perma-Stick makes it easy to apply the material to almost any surface. Humidity and temperature extremes can play havoc on inferior sound damping. Perma-Stick's chemical make-up is designed specifically to work in the harsh automotive environment.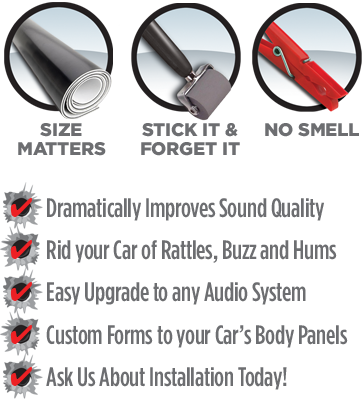 Shop Ballistic
Get the Best Quality for your Install. Choose from Two Levels of Performance:

Ballistic Series - Competition Grade
Jet black finish with silver logo
2.2mm thickness
0.72 mass per square foot
Ballistic is a proprietary butyl rubber composite with an aluminum constraining layer for vibration damping. Designed and engineered in the United States, Ballistic is extremely efficient at converting vibration to thermal energy. This unique formula allows the material to easily conform and adhere to sheet metal and most other hard surfaces. Ballistic Sound Damping Material is up to 30% thicker than competing products and has more mass per ft2 than any other damping product available.

Hollow Point - Performance Grade
Black aluminum back with black ghosted logo
2mm thickness
Ballistic Hollow Point is a unique butyl rubber composite with an aluminum constraining layer for vibration damping. This series was developed to deliver incredible performance at an entry-level price point. The lightweight construction allows the material to stick and adhere very well and work in a variety of applications. Ballistic Hollow Point is the perfect synergy of weight, performance and cost, delivering more mass per ft2. The use of Ballistic's proven virgin butyl composite guarantees a significant improvement in reducing road noise and vibrations.
Don't Forget the Essentials!
Barrier Products
Protect the inside of the vehicle even further with foam liner carpet pads, aluminum seam sealing tape, and sound damping materials.
Installation Tools & Demo Display
Get the right tools for the job! Ballistic has a professional grid roller and application rollers for installation. A demo set for your table-top display allows you to demonstrate Ballistic's sound damping performance so that your customer can hear the difference for themselves.